Tourism in Rimini for a complete holiday
Rimini is an open, hospital town on a human scales as well its wide seaside beach as its ancient heart: the historical Centre. Easily reachable in few minutes from Square Kennedy along Parco Renzi, it offers to visitors historical monuments of prominence, such as the 'ÄúArco di Augusto'ÄĚ (Augustus Arch) of the year 27 B.C., still perfectly safe, despite its two thousand years of history, the 'ÄėPonte di Tiberio'Äô (Tiberius Bridge) of the I century A.C., the Amphitheatre built in the II century A.C. and the 'ÄėDomus del Chirurgo'Äô (Surgeon'Äôs House), another Roman symbol. From Ancient Rome to the Renaissance the 'ÄúTempio Malatestiano'ÄĚ (Malatesta'Äôs Temple) is one of the most significant example, as the 'ÄėCastello di Sigismondo'Äô (Sigmund'Äôs Castle), symbol of the power of the Malatesta family. Rimini'Äôs history has the cinematographic imagination form 'ÄėGrand Hotel'Äô to the 'ÄėDistrict of San Giuliano'Äô, places that were dear to the Italian director Federico Fellini, the 'ÄėMaestro'Äô (Teacher), who was born here. When you leave the seaside there are other two treasures to discover: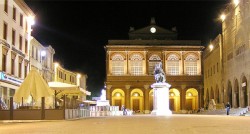 The Marecchia and Conca Valley, which still preserve an amazing countryside with small villages and castles that custody a rich artistic heritage. .
The two valleys and the Riviera (seaside) are dominated by the three rocks of San Marino, symbol of the most ancient Republic in the world, which recalls every year thousands of visitors. For those who like bicycles, in Rimini there are about thirty kilometers of bicycle paths which connect the seaside to the town, and at the same time they represent a pleasant itinerary in the green of the parks.
For the most trained bikers, the territory is incredibly diversified, and in few kilometers you can go from the plain to the hill, up to the mountaintops of the Apennines.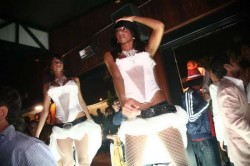 The towns of the coast never sleep by night! You can enjoy trendy bars, restaurants, dinner pubs: gastronomy with an undertone of lounge music and street bars. Along the road, you can find musical meeting points, where you can dance, drink and meet other people.
Finally, there are the discos, one of the myths of the Romagna's Riviera, and the public dance-halls along the seaside. The star of the ballroom dancing never goes down, such as the star of the Latin American rhythms.